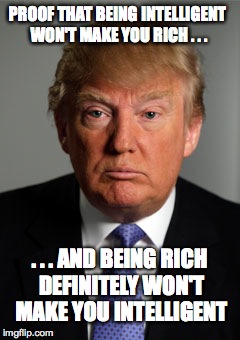 I truly don't care about Donald Trump. He's one of these guys that has his superb ego up his ass pretending that he's God's best gift to mankind. But in the end, he is obviously burying his own grave. The sensitive issue of immigration has it's merits and it's very controversial for a great amount of reasons. This country is basically founded upon immigrants from all parts of the world. Some doing the hard work voluntarily, but many against their will in order to survive in this strange land. Mr. Trump doesn't get informed two things particularly his contradictions specially around the social media of his clothing line, that are made in Mexico and the comments regarding Mexican people as criminals, rapists and dangerous individuals is one of these screw ups that can destroy his so-called presidential race.
One of the most important things about the presidential race is this. It's about how many people will reach you to get the vote. If you talk bad or being offensive about an specific group, consider yourself exterminated. Donald doesn't know where to put his thoughts into motion and his mouth shut, since he don't have an effective Public Relations agent to guide him to the process of being a presidential candidate. But instead, he just went off like a sailor ignoring the lighthouse and the boat came crashing down the shore. His sponsors like NBC, Macy's, Univision among others had dropped his persona over the fact that it creates a negative image to their company. More negative however is the fact that the majority of the American People are mostly immigrants. I doubt that Mr. Trump is going to have a chance to be the next President of the USA.
And he continues to point the wrong to make it right in his vision, specially this incident with a female killed in San Francisco by an undocumented person who found a gun belonging to a agent to benefit him in his campaign. But reality of it all is that there's good people, and there's bad people in the world and hating an specific group of people isn't gonna get far, instead it's gonna get you hated.
Sorry, dude, no vote from Me.